Photo Print & Product Options
As well as high resolution digital image downloads and image packages, we pride outselves on offering award winning imagery in a variety of stunning print and product options, at affordable prices!
All print options are available by clicking the buy button on any image in the gallery.
For more information on print or product details, please contact me.
Standard delivery is typically 14 working days, or free collection at the next meeting is available.
---
Our canvas photo prints offer great value for money large prints of your chosen photo!
Using pigment ink, they are waterproof, fade resistant and offer a stunning matte finish.
Prices:
A3 Canvas print: £25
*30x20inch Large 18mm deep Canvas Print: £35*
30x20inch Large 38mm deep Canvas Print: £47.50
Supersize canvas 44x30inchs 38mm deep: £100
Multi-Panel split canvas print: £100
---
Elegant & modern. Glass panel prints offer a glossy appearance with a single piece 4mm toughened glass panel encapsulating the photo print inside a black border with a smooth flat finish.
The photos in these frames can be changed without needing to buy a new frame, making them timeless and cost effective. 
The frames can be freestanding for desktop or similar display up to A4 size, with A3 and larger panels having wall mounting attachments.
6x4 inch & A4 freestanding
or wall display glass panels
Wall display A3 & large 30x20 inch
glass panels
Prices:
6x4 desktop glass: £10
*A4 freestanding or wall glass: £25*
A3 glass: £35
30x20inch glass: £85
---
Desktop 6x4inch Freestanding Framed Prints
Acrylic Block & Glass Frame
The 6x4inch Acrylic Block is 15mm thick and offers edge to edge image coverage.
The 6x4inch Freestanding Glass Photo encapsulates the photo within a 4mm toughened glass panel, with a black surround and glossy smooth finish.
Small but Stylish, ideal for gifts or freestanding desktop display. Both options offer the ability to change the photo with a new print at any time making these glossy photo displays affordable and timeless.
Prices:
6x4inch Glass Photo Panel: £10
6x4inch Acrylic Block: £12
---
Printed on an Aluminium metal sheet, with 12mm stand-off posts for an elegant gallery style wall-art look. Size: 40cm x 28cm (approx A3)
Photo finish or Metal finish option adds brushed metal texture and shine to the image (what is white in the photo appears silver in this option)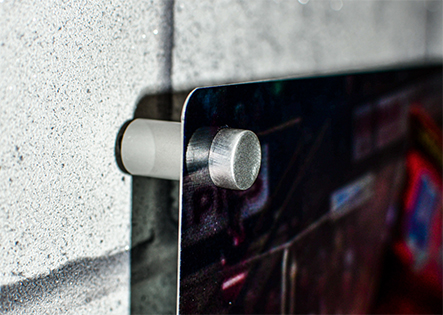 Black & White Metal Finish 
---
Matte finish photo printed on rock slate panel, 30x20cm, with display stand.
---
Photo Prints from 6x4 inch to poster size, printed on 260gsm glossy photo paper.
Ideal for albums or replacement prints for glass panel frames.
Prices:
6x4inch print: £1
A4 photo print: £10
A3 photo print: £12
30x20inch poster print: £18
A budget framed print option, this A3 wall mounted frame is lightweight, using safety acrylic rather than glass. A 10mm black frame adds depth to the recessed glossy print, which is enhanced with a white mount. 

Prices:
A3 Budget Frame Print: £20
*Custom frame sizes and colours available and sourced by request.
30x20inch Acrylic Wall Art
This premium photo print features a 5mm glossy acrylic panel, 30x20 inch large photo print, and chrome standoffs which push the print 15mm off the wall for a gallery style display.

Price: £90
---
Photo phone and tablet cases.

Prices vary on device, get in touch for a quote.
Guide Prices:
Soft photo case: £15
Plastic photo case: £16
Leather Flip Case: £20
---
70 piece cardbaord jigsaw puzzel, A4 in size.
Price: £10
Water Bottle & Travel Mugs
Mugs, Drinks bottles & Travel Mugs. 
Guide Prices:
Travel Mug: £15
500ml Drinks Bottle: £15
11oz Mug (White or Magic Heat Reveal): £8
---
Neoprene Printed Face Covering
Customised photo face coverings. Traditional style face covering with printed panel, or full face/neck sleeve with polyester material for comfy fit.
Prices:
Adult Face Covering (Small or Large): £7.50
Childs Face Covering: £6.50
Face/Neck Sleeve (Small or Large):  £7.50
---
*please note these are visual face coverings and not a medical grade mask.
---
Custom printed bags, including Laptop bags, Shoulder bags and Drawstring bags.
Laptop bag: £16
Shoulder Bag: £18
Drawstring Bag: £5
---
T-Shirt & Hoodie Photo Prints
Direct to Garment printed clothing. 
Prices (guide): 
Kids Tshirt: £22
Kids Hoodie: £30
Adult Tshirt: £25
Adult Hoodie: £35
Softshell Jacket: £40
*Custom artwork may have an artwork fee.
* Different garment options available and prices may vary.
* Kids prices up to age 14
---
*Please note, prices are for standard photo prints and do not include postage if applicable (free collection from next meeting available). 
KARTistry image enhancements will be charged an additional artwork fee, applied automatically at checkout.